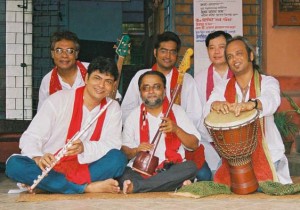 Bengali music found its new voice through band music that has recently proliferated across the land and one of the pioneers of this music is "Bhoomi" the legendary band from Kolkata. The key to Bhoomi's success is their use of Bengali folk tunes and enrich them using modern musical arrangements. The six member team, with occasional guest artists, have been entrancing their audiences since 1999 with their captivating music. Folk musicals styles like baul, bhatiyali , moishaal, jhumur,saari gaan and qawaali constitutes the primary source of inspiration for Bhoomi's music. Bhoomi uses a wide range of acoustic instruments that include the thumbas, bongos, dotara, djembe, drums, violin, flute, khanjira, mandolin, banjo, khamak, matka, handi, guitar, castanets, tambourine, kanshar ghanta, conch, resso, blues harp, pan flute, spring drum, steel drum, melodica, blues harp, harmonium, piano, moorcing, ektara, recorders, tabla, balalaika, dugdugi, dubki, edakkaii ,cowbells, chimes, dholak, khol, madol etc. The band members are all multi-talented musicians who not only can sing, compose, write lyrics for the songs but also can play a wide variety of instruments. Soumitra (Ray) and Surojit (Chatterjee) are the lead singers of the band but they also play a variety of instruments with Soumitra on the rhythm (drums) and Surojit typically on the Mandolin, flute or the guitar. The other team members – Sanjoy Mukherjee (sound effects), Abhijit Bose (base guitar), Robin Lai (violin and keyboard) and Hemanto Goswami (lead guitar) complement the singers in a variety of arrangements.
Baranday Roddur
Besides their nine albums and numerous live performances, Bhoomi also hosts a show on ETV Bangla channel titled "Baranday Roddur". This is a music and dance show blended with some lively chat with some Bengali celebrity. The show invites young dancers (4 to 10 year olds) from different parts of the state and what a wonderful show do they put up. And of course their is Bhoomi's performance, sometimes with the celebrity guest singing along.
Bhoomi around the world
I first encountered Bhoomi live at a concert in New Jersey couple of years ago. It was an extremely enjoyable evening. Bhoomi really knows how to connect to their audience, be that in a rural town in West Bengal or at the United Nations in New York. They were the first Bangla band to perform at the United Nations and also the first to perform at the Montreal Jazz Festival. They perform regularly at the North America Bengali Conferences (NABC) and at the midwest Bangamela.
Evolution of Bengali Music?
Bhoomi is now a household name in any Bengali home. They are redefining the presentation of Bengali folk music in many ways and many bands are now following their path. The only complaint I have is that often when I hear Bhoomi mix rural folk accent with sophisticated urban Bengali accent in their music, I feel uncomfortable. It just does not sound right to me. It is not in the league of the traditional folk music that I am accustomed to. But as someone pointed out to me, maybe the way Bengali is spoken these days in rural Bengal is changing and I am not aware of this evolution at all.