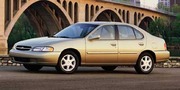 Recently I was in the market to buy a used car for my son. It has been quite a long time since I bought a used or should I say "preowned" vehicle. Even when I had bought couple of "pre-owned" cars during my early days in this country, I bought them through my colleagues and friends. The first car I bought was a Dodge Aries wagon that was sold to me by a colleague of mine when I was desperate to get a car that had four wheels and could take me from my home to work and maybe some shopping. Hence I ignored several of its "minor" blemishes – like the rear passenger door which was disabled permanently. A previous accident had bent it awkwardly and  my colleague warned me that if I attempt to open the door from inside, it may swing out violently and injure a bystander. I never opened the door. But the car served me very well. It was the time when minivans were just appearing in the market and station wagons were in high demand to haul luggage to the airports. My friends loved the car. It could sit six people quite comfortably and the huge trunk could pack in a whole apartment.
My second car was a Nissan Sentra – a cute little car with very low mileage. A friend of mine, who was a grad student at Rutgers helped me find this car while I was searching through local newspapers.  Since then, lot of things have changed – the internet revolution happened – social networks and blog sites came about, and people stopped reading newspapers – old relations faded and new ones formed. I too avoided getting into the hassles of  used car shopping and stuck to buying new cars just to avoid the stress.
When my son became eligible to drive, pressure started to mount on me. He wanted a car of his own. I tried to hold off for a while but finally gave in and started looking for a "pre-owned" vehicle – a reasonably reliable vehicle that would have reasonable number of miles on it and would have a reasonable (read low very low) price tag. The problem with used vehicles is that you typically do not have a model in mind, rather you move with a dollar amount in mind. Maybe you can also setup a mileage target and age of the vehicle too – but my primary objective was to find a good deal! The next problem was, where do I start my search? My friends and colleagues suggested I should look up CraigsList, and I did just that. Soon  I identified few cars in my area (central Jersey) that I liked and contacted the sellers.  The cars were very attractively priced and I was eager to close a great deal. The sellers soon responded with tales of their own. Some were going through a nasty divorce, some lost their jobs, some had to leave the country, but the common theme was that everybody wanted to ship their car to me. Most wanted to transact through eBay or similar service and ensured that if I am not satisfied with the car, I can return the car and the money will be returned to me promptly. I was literally thrown aback – I never heard of used car salesman shipping cars via UPS or FEDEX and that too for free! I smelled a rat and sure enough I discovered the warning posted on craigslist – any offer to ship a car is fraud!  I found some genuine sellers too, and checked out couple of them but none were satisfactory.
In the meantime I discovered CARFAX and AutoCheck. Both these services provide you with a detailed history of the car as to whether it had any (reported) accidents, whether the car was salvaged or whether the odometer was tampered. It also contains reports of each and every title change and registration renewals and in some cases inspection and service records. Autocheck (by Experian)  even provides a Autocheck score which helps you tally the car against similar cars in the same category. For example, for the same model year a car with less mileage would have a higher score than one with higher mileage. Both companies offer buy back guarantees if the car later is proven to be a salvage, or have title or odometer discrepancies that were not reported. Hence I subscribed to CARFAX and Autocheck to arm myself with enough information before negotiating a deal.
I was always hesitant to go to a used car dealer, mainly because of the stigma associated with this class of businessmen. I heard so many horror stories, I thought that the moment I step into a used car dealership, I'll me coerced into buying a junk. But with CARFAX and AutoCheck, I felt that maybe I can outsmart them in their game. But soon I discovered that the used car sales people have changed their strategy. I met three sales people and none of them were pushy.  They showed such a calm and disinterested demeanor that at times I felt that they must be in the wrong business. They all have their websites with the details about their inventory and even before I could mention CARFAX, they pulled out a report for me. Maybe the current state of our economy has been good to the used car business and hence they really didn't mind losing a customer or too, but it kind of turned me off.  Maybe my ego was hurt since they were not begging me to sell their cars.
As I was getting tired of searching for that great used car, and even contemplated the idea of buying a cheap new compact from Japan or Korea, a friend of mine pointed me to Sulekha classifieds.  And it was indeed a gold mine. Almost all sellers are of Indian origin and most cars posted are the Indian favourites – Toyotas, Hondas, and Nissans. Very few American cars.  I started shortlisting them and contacted the sellers  for their VIN numbers, ran them through CARFAX and AutoCheck and soon I was able to find my car – a '98 Nissan Altima with low mileage and good AutoCheck score!  Now let's see how long it lasts.