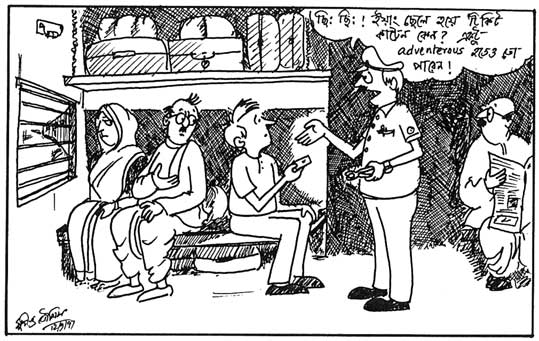 Traveling long distance by train was one of the most enjoyable modes of transportation in India. Once you get over the initial hurdles of getting a reserved seat or squeeze yourself in through the crowded doors as the train slowly rolls in to the platform or the frantic attempts to manage the porter and the family, the journey becomes much easy and enjoyable. Overnight train rides are especially thrilling when you not only need to manage a berth to sleep, but also keep an eye on your luggage and belongings to protect them from the "highly suspicious" co-passengers around you. When I was a child, I remember the train journeys from Kolkata (Sealdah or Howrah depending on which train you take) to Siliguri. Before the Farrakka bridge (barrage) was completed, we had to get off the train at Farakka and then take a steam boat across the Ganges to the other side (Sagrikoli Ghaat) and then scramble on to the train after a long run. If you were unlucky enough of not having a proper reservation, then your plight can only be imagined by those who took that journey. However, once you are settled in your seats or berths, temptations start knocking on your senses as the aroma of hot food attracts your attention along with the loud marketing attempts by the food vendors on the station. The appetizing offerings of "Ilish Maachher Jhol", "Bhaaja Mooger Daal", "Gorom Bhaat with Ghee" and "Begun Bhaja" pulls in many hungry passengers to the bamboo and hay thatched eateries all around the train station.
Later, after the completion of the Farrakka barrage, we had to be consoled only with the food offered by the railway caterers which looked and smelled tempting but was hardly tasty. Still, we waited eagerly for the moment when the uniformed caterers brought in those food trays with holes and slots filled with rice, daal, anda curry, fish curry etc. Often we carried better food with us like luchi, alur dom, but still those aluminum trays looked much tastier than our home cooked meals.
Another feature of this specific route was that most regulars hardly ever bought any tickets for their travel. After traveling few times, they all knew each and every Ticket Collector (TTs) and they had a nice arrangement with them which reduced their travel budget significantly. In fact it was a disgrace for a young guy to travel with a train ticket as one of my cousins explained to me. When he displayed his ticket to the TT on board, the disappointed official scolded him citing that a young guy like him should have been more adventurous.
I really appreciate our railway minister Mr. Lallu Prasad Yadav. It must have been a real challenge for him to make the railways profitable by collecting the proper fare from each and every passenger. However, he must have killed the adventurous spirit of our young folks in this process.