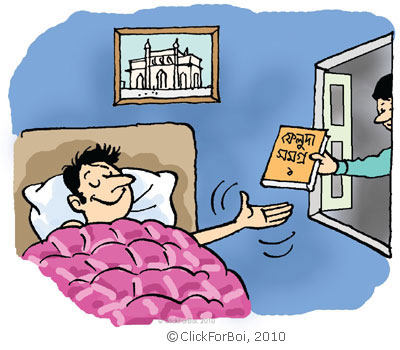 If you are a book lover in Kolkata or any other part of West Bengal or India, your options for reading books are quite limited. The local books stores have a limited stock and they may take days to get you a copy of the book you are looking for. Your next option would be to go to the College Street book stores which is an uphill task during these hectic days and traffic congestion. Your local libraries can stock only a limited number of books constrained by their meager budget. ClickForBoi resolves all that problem by allowing you to get your favorite books online.
Imagine Netflix for books, and that's what ClickForBoi does for you. Book lovers in Kolkata/West Bengal and India can now join this novel subscription service by clicking on ClickForBoi.in . Subscription starts from Rs 199.00 per month which includes as many books as you can read, including delivery and pick-up charges. Once you become a subscriber, you can select books and make your own queue. ClickForBoi will send you books from the queue and once you return it, they'll send the next one. Unfortunately, this service is available only to readers in India.
The creators of Click For Boi also has an online book store named ClicktoBuyBoi.in . This store works in the same model as Amazon.com or any other online book store. ClicktoBuyBoi.in sells Bengali books of all genres and of all authors and their stock keeps on growing. They offer good discounts and their shipping charges are very nominal. For example, a book shipped to Bhubaneshwar from Kolkata was only charges Rs 20.00.  However, their shipping is now limited only within  India, with plans of expanding and reaching out to expatriate Bengali readers all over the world. But for now, Bangla book lovers living abroad can gift books to their loved ones in India using this site. The site accepts credit cards. And just to add a shameless plug, ClicktoBuyBoi.in also has my book (Natak Samagra) in their stock.
Image courtsey – ClickForBoi.com