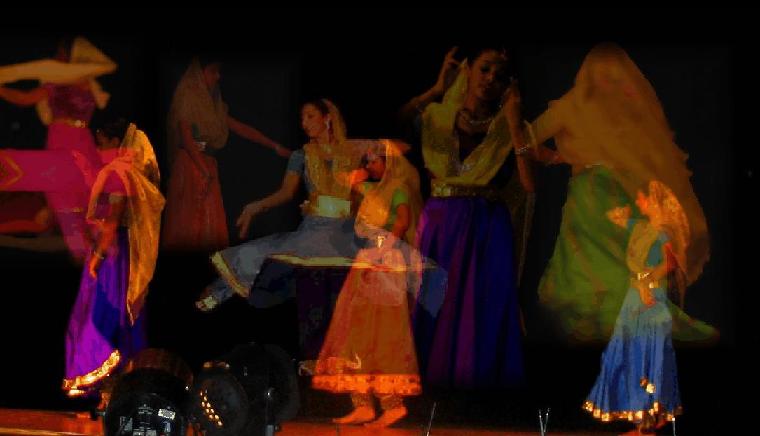 The classical Indian dance form Kathak is now quite well known amongst the dance connoisseurs of America.  Americans who have some familiarity with classical music and dance of India, know about Kathak – a dance form that truly blends together the various components of Indian music – melody, rhythm and the beauty of the physical form.  It is true that many stalwarts of the Kathak dance form like Pandit Birju Maharaj and others have graced the American stage with their amazing performances, but the primary reason for its popularity and sustenance in this country is due to the tremendous efforts put in by several Kathak dance schools and academies run by the immigrant dancers from India who wanted to spread their passion for this art form amongst the next generation. Once such school is Kalamandir of New Jersey led by its director, Malabika Guha.
For the last twenty three years, Malabika Guha and the students of Kalamandir have been working relentlessly to nurture and promote this traditional dance form of north India in USA. Malabika herself received training from illustrious gurus like Bela Arnab, Guru Bipin Singh, Amala Shankar and many others. She felt that it would be a crime to keep this art form within herself or to let it die like many other dreams once we land into this country.  The passion for dance that her gurus have imbibed in her, found its release through her students and the journey that started twenty three years ago still continues. Kalamandir and Malabika has performed more than two hundred shows all across America, Europe and India. She has proven to the world that classical Indian music and dance not only transcends time but also space – it can shatter all barriers –  social, geographical, political! "Art for art's sake" – that's what my teachers taught me, says Malabika.
But Malabika's greatest success story is her daughter – Brinda. Like many other second generation Indian American girls she started taking lessons in Kathak from her mother – but then she fell passionately in love with dance – with rhythm. Now she is one of the prime drivers of Kalamandir, taking up the mantle from her mother and promising to take Kalamandir and Kathak to new heights. Always eager to explore, eager to push the boundary, Brinda blends Kathak with Flameco, Ballet and other modern dance forms to create new compositions that are classical and modern at the same time.  She is what every dance and music teacher dream about for their students – someone who can carry on their legacy – a legacy that has been handed over to us through the generations.
Organizations like Kalamandir and people like Malabika and Brinda are what makes us feel proud of our heritage today. We should all come forward and support them in whatever way we can to make their mission a grand success.