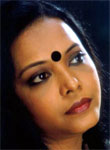 Few weeks ago, Lopamudra Mitra presented a concert at the Marlboro High School Auditorium at the invitation of the Dakshineshwar Ramkrishna Sangha Adyapeath (DRSA) of New Jersey. She was touring USA at the invitation of the Bangamela 2008 (held in Columbus OH) and before leaving the country, she made a brief visit to New Jersey. It was Lopamudra's special attachment to Dakshineshwar Adyapeath that brought her to this fund raising concert. However, the audience response was only lukewarm at best. The torrential downpour before the concert may have contributed to the low attendance, but I think the major reason is the multiple events that are happening all around us during the summer season.
Lopamudra's concert started quite late (by Sunday evening standards), but it was worth waiting for. Her well trained mellifluous voice that traverses the three octaves with extreme ease and grace was a treat for all music lovers. The power in her voice and rendition style touched everybody.
During the early nineties, when Suman Chatterjee and few others heralded in a new era of Bengali music, it was primarily dominated by male singers. Lopamudra appeared into this new arena with her unique approach. Her musical rendition of the famous modern Bengali poems (Joy Goswami, Jibananda Das and others) took Bengal by storm. Her musical interpretation of Joy Goswami's "Benimadhab" gave the poetry a new meaning – it shattered the notion that modern Bengali poetry lacked lyricism.
On this rainy afternoon in New Jersey her voice and music reverberated not only in the auditorium but in the hearts and minds of the few listeners who came daring the storm. She proved once again her versatility in all forms of Bengali music – modern, folk, Rabindrasangeet. Her rendition of "Aguner Parashmoni" at the end left the whole auditorium humming the tune even after the concert had ended.
DRSA deserves our heartiest thanks for bringing this wonderful artist to us. However, the organizers could have limited the number of events and provided Lopamudra some more time. I am all for supporting local talents, but please make sure that these performers have the quality to share the same stage with an artist like Lopamudra.