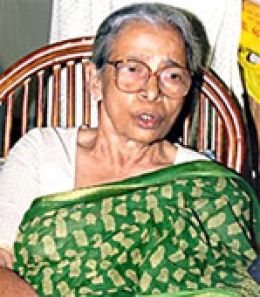 On Wednesday (18th March), fourteen authors across the world were been named as the contenders for the Man Booker International prize. The long list of writers includes the name of prolific veteran Bengali writer Mahasweta Devi.   Sir V. S. Naipaul is also included in the list. In all 14 authors from 12 countries have been nominated for Booker Prize, which is one of the most prestigious literary awards in the world. The prize given in two years carries prize money of 60,000 pounds and can be won by any author worldwide, provided their work is available in English.

Seven out of fourteen writers, who have been named in the judge's list of contenders, are in translation category. Mahasweta Devi, who writes in Bengali, is based in Santiniketan in West Bengal. She is one among India's foremost writers.  She is also a well-known activist for the rights of indigenous peoples. Devi is known for depicting the moral dilemmas Indians from different walks of life face.
"I have always believed that the real history is made by ordinary people. I constantly come across the reappearance, in various forms, of folklore, ballads, myths and legends, carried by ordinary people across generations," Devi has said.
"The reason and inspiration for my writing are those people who are exploited and used, and yet they do not accept defeat. For me, the endless source of ingredients for writing is in these amazingly, noble, suffering human beings. Why should I look for my raw material elsewhere, once I have started knowing them? Sometimes it seems to me that my writing is really their doing," Devi added.
The 14 authors on the list are: Peter Carey (Australia), Evan S. Connell (USA), Mahasweta Devi (India), E.L. Doctorow (USA), James Kelman (UK), Mario Vargas Llosa (Peru), Arnošt Lustig (Czechoslovakia), Alice Munro (Canada), V.S. Naipaul (Trinidad/India), Joyce Carol Oates (USA), Antonio Tabucchi (Italy), Ngugi Wa Thiong'O (Kenya), and Dubravka Ugresic (Croatia), Ludmila Ulitskaya (Russia).
The judging panel for the Man Booker International Prize 2009 includes: Jane Smiley (writer), Amit Chaudhuri (writer, academic and musician) and Andrey Kurkov writer (film script writer and essayist).