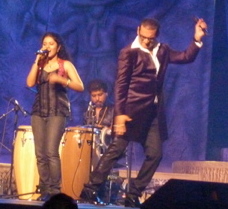 Finally the 2010 NABC came to an end on Sunday July 11th at the Atlantic City convention center in New Jersey with a "blow out" performance by Abhijeet. Although his mockery of Bengali culture was not well appreciated by many Bengalees who slowly drifted away from the hall (which was not liked by the singer at all), his performance was just what was expected of a Bollywood performer – entertaining but nothing extraordinary. However, people who came to the conference went back with memories – some of which may not be very pleasant but I would think most of them would be happy memories. Memories of the wonderful performances by  Sahaj-ma and Utpal Fakir, Kaivalya Kumar and few others, memories of meeting friends, those long adda sessions and the World Cup finals.
But the people who went back with a bad taste in their mouth (no, I am not talking about the food served by Shahnawaz) were the people who came all the way to showcase their talent through dance, drama and music.  These people paid group registration for their show, paid individual registration fees for their entire troupe and spend big dollars to bring their show with the hope to share with their Bengali friends who came from around  the country.
'Really felt like nobody cared about our program, only about our registration dollars!" says Bharati Mitra, director of Tagore's "Arupratan" a show that was presented in Hall A or Banga Mancha. And this is not only her feelings. Most of the performers, especially those who performed in Hall A echoed the sentiment, as noted by Keya Sen, "I echo the sentiments that those of us who were assigned to perform on Hall A felt irrelevant and inconsequential." Meena Basu Nag, an award winning choreographer, dancer and director of Nritya Creations says, "The most important take away for me is that NABC is no longer a place to showcase "domestic" rising talent in our own Bengali North American Community and a place for second generation and third generation Bengali choreographers/artists like myself to showcase their work and talent."
The concern primarily is against the hall assignment and scheduling of the programs. Most of the domestic performances in Hall A were pitted against the star performers in Hall C (Bishwa Mancha) the main stage of the conference. This caused the audience to stick to Hall C since none of the domestic performers had the star power to pull them off from their seats to Hall A. Even when Hall C had some dull and boring lectures going on stage, the audience hung on to their seats to ensure that they have a good view of their star who would be performing next.
Hall A was a secondary hall in all respects. It did not have adequate lights, the stage was ill-designed and built, it was located far from the action center, and there were no notices anywhere as to what is happening where (except for the program schedule printed in extremely small fonts). Meena Basu Nag complains, "Nritya Creations was allocated a time slot competing with Artists from India in a secondary hall where lighting was suboptimal." She goes on to add, "I spent over $4000 registering 25 of our best senior Indian, Bengali and non Indian students for this program expecting we will be given a fair platform based on our merits, past achievements and proven success. Instead we performed to a an audience of 300 in Hall A while Hall C sat over 6000 people at the same time for overseas artists such as Anwesha and Bikram Ghosh's performances. The audience members who saw our program expressed deep concerns that why such a very high caliber and professionally executed show like ours was presented in a secondary hall and competing with Artists from India…" Mabhin Ghosh Datta from Canada had the same frustration, "We [9 performers] went to join NABC 2010 from Ottawa, Canada and most of my students are not Bengali. We spent all the money for artist's registration/hotel,trip on top of group registration just to perform there. Our performance started late and was almost at the time of Aneek Dhar so no one there for our performances…"
Prabir Das, who brought his drama team all the from Cincinnati, is more pragmatic. Although his play Sikhandi was competing against two major shows on stage C, Bikram Ghosh's percussion band followed by a star studded "Surer Jharna", but that was not his primary complaint – "As far as I am concerned, I really don't expect that 5000 people would attend my show. I really don't. People have every right to pick and choose which program they would want to watch. However, that does not mean, purposely placing two or more auditoriums in such an unrealistic strategic locations that would confuse people and would not even want them to consider to come to the other auditorium." He too like many others was totally disappointed with the technical aspects of stage A, "Was that a stage for any kind of performance other than some band? Was that any kind of theatrical lighting? "
And the list goes on and on. Some of the key organizers have been heard to say that it was the fault of domestic performers that they could not attract the audience. But the organizers fail to understand that unless people experience the domestic shows, they would never know the quality of their presentation. The handful of audiences who saw some to the good domestic shows have told explicitly that they were no inferior to many of the overseas productions they have seen. The domestic groups do not have stars to pull in the crowd in large numbers. How can they be expected to compete with Aneek, Anwesha, Monomoy or Indrani Sen. Even between the stars their exists a popularity hierarchy. If Aneek was pitted against Indrani Sen in Hall A, I can bet that she would have had only a handful of audience, just as it would have happened to Aneek if he was competing with Abhijeet.
I have raised this issue with several of the organizers of NABC 2011 and based on the past record, the Baltimore organizers will hopefully handle these issues in a better way. The new president of CAB Kajal Sarkar has taken up this issue seriously and has ensured that in the future NABC events, he will make sure that such step-motherly treatment towards the domestic performers never happens. He has asked for suggestions and we all gave him our best ideas.
Despite all the good intentions of CAB and the NABC organizing committee members, the fact remains that the domestic performers will have to struggle to get their audience, although it is not impossible. The first and foremost thing that we domestic performers should do is to improve our performances and raise it to the levels that an audience expects from a professional group. Secondly, we need to accumulate accolades, awards, reviews and all other appropriate and recognized credentials which a selection committee can use to decide which groups to invite. And yes, domestic groups should no longer pay money to participate at NABC. If you have to spend money, then spend it on your production, rent a theater space and show case your talent to your local audience. The cost of such a production will not be any more expensive than what you all spend to come to NABC to perform. I am not saying that you should not come to NABC. Please do come, enjoy the shows from overseas performers, have fun and adda with friends and go back happy. I think the time has passed for NABC to milk the domestic performers just to give them a slot on the stage for their money.