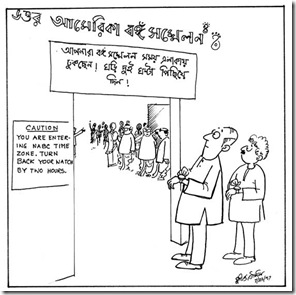 On July 4th, Saturday night, the curtains came down upon the NABC 2009 at the San Jose McEnery Convention Center. But as the NABC lights faded out in the West Coast, Kallol of New Jersey got into full gear to herald in the NABC of 2010 to be held at the Atlantic City Convention center from July 9th to 11th, 2010. Although I was not able to attend the San Jose NABC, but judging from the excellent coverage on Urhalpool, it seemed that it was a successful one from an overall perspective. It seemed that the shows ran on time (which was unthinkable even a few years ago, NABC seems to have fixed that vexing problem and made this cartoon irrelevant), they were entertaining and dazzling, food was good, as were the long adda sessions. The second generation kids also seemed to have enjoyed themselves, some made new friends and some met old ones they met at previous NABCs.
However, the editor of Urhalpool, Gautam Dutta (who also has received an award from the Cultural Asso. of Bengal at the NABC 2009 for his contribution to Bengali literature) wrote an editorial on the NABC proceedings which echoed some of the frustrations of the past.  Gautam's grievances about the treatment of domestic artists and performers, neglect of  literary guests and their seminars, lack of care for Bengali literature as a major component of Bengali culture has been voiced time and again but to most of the organizers those are of lower priority. After all Shantanu (Shan) from Mumbai can pull in more registrants than Sunil from Kolkata. Although I wrote about some of these issues in a past article, I think I'll re-iterate some of them once again. Since the 2010 NABC will be held in our home turf, organized by our club "Kallol", I can hope that our hopes and wishes will find some compassionate ears.  So here goes my wish list:
1. Cut down the number of artistes from India (Kolkata, Mumbai).
Inviting a large number of artistes and performers from India is counter productive. It not only boosts the NABC budget, but to the audience members it becomes a major hassle to co-ordinate between other shows, social meetings, literary seminars, films, theater etc. etc. I have nothing against the professional performers from India. My point is to give some room to the audience members to enjoy and appreciate the other programs.  How can we expect audience at a literary seminar when it runs parallel to "Shan", "Shreya" or "Srikanto"?  And hence during the local performances, they take their breaks for meals, addas and shopping.  Please give them a break.
2. Introduce new and upcoming talents from India.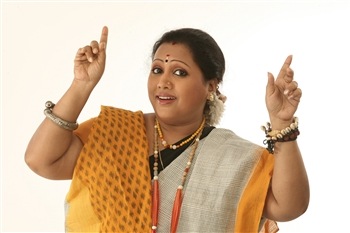 Aren't we tired of watching and listening to the same performers again and again? Srikanto Acharya is a great singer, but think how many times we have heard him in the last five years. We wouldn't have attended his concert this many times even if we had lived in Kolkata. Same goes for many of the other artistes whom we see at each and every NABC gathering. Why not introduce some of the new and upcoming artistes at NABC? With the proliferation of Indian and Bengali TV channels in USA, we are now familiar with many of these artists. One name comes to my mind is "Sahaj Maa" – her renderings of Sufi and folk music is simply mind boggling. Stand up comedians like "Mir" or "Kanchan" can be an excellent addition to the usual repertoire and they can double up as anchors/emcees.
3. Special events for second generation.
Although this sounds like a cliché, but the fact remains that we mostly ignore our next generation at the NABC festivities and get too involved with ourselves. Mind you, when we talk about second generation, we are talking about a wide range of age groups. "Speed Dating" (introduced at NABC 2009 I presume) is nice for the youths, but may not be that attractive for the younger kids. We need to be innovative about getting them engaged – be it quiz contests or spelling bees, Bengali Idol (NABC idol was introduced in 2009) music contest, children's drama competition,  dance competition – anything that  can engage them.  How about mini-workshops on arts and crafts, music, acting or film making? And let our second generation kids organize, manage and run them.
I have more wishes and I'll list them in the coming weeks. I also welcome comments and suggestions from the readers and listen to their wishlist. However, the bottom line is that we need to rethink the objectives of Bango-Sammelon aka NABC and act accordingly.