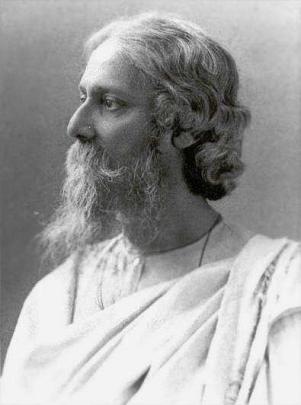 This year we are celebrating the hundred fiftieth birth anniversary of Rabindranath Tagore. In America several organizations are busy in preparing for the celebrations around the year. In New York and New Jersey, Cultural Association of Bengal (CAB) is joining hands with multiple organizations to hold multiple events in New York, New Jersey and Maryland. Amidst all this excitement, I was trying to look at this myriad minded genius from a different perspective – from the perspective of an expatriate Bengali, more specifically a Bengali American. And when I say Bengali American, I do not imply any national significance, rather I mean a Bengali speaking person living in America.  I have been looking into this subject for more than a year now, and during the course of my so called research I have been fascinated in knowing a great deal about the history of expatriate Indians in America and their relationship with Tagore.
Tagore had a special relationship with America, where he visited five times during his lifetime and spent the second highest number of days outside India after England.  His visits also happened during some crucial junctures in his life and in the history of the world as well as India. He had developed some kind of a fondness for America and Americans that brought him again and again even after being sorely disappointed with his previous visit. It is true that his later trips to America were mostly to raise funds for his school (and later his university) in Shantinekatan, but some of his trips were made when he was very well  informed about the potential outcome of this objective. But in this article I do not intend to get into the details of his trips or his relationships with Bengali Americans. Rather, I'll try to highlight his feelings for America and that too the positive ones by quoting from some of his interviews, statements and letters.
Tagore had his first introduction to America when he was about twelve years old. With the help of his father Maharshi Debendranath Tagore, he read "The Autobiography of Benjamin Franklin." Maharshi Debendranath thought this would be an instructive as well as entertaining book for young Rabindranath, but soon he discovered that Benjamin Franklin was too business-like a person. As Tagore later wrote in his autobiography  (Reminiscences), "The narrowness of his calculated morality disgusted my father." But the book must have also gave him a glimpse of the  America that fought for her freedom from the British and championed freedom as a fundamental human right.   During his youth, Tagore also studied American poets. "I love your Emerson. In his works one finds much that is of India." he once told an American journalist. He also felt that Whitman's poems were "deeply imbibed with Eastern ideas and feelings."
When he was forty-four, while playing a major role in the 1905 nationalist agitation against the partition of Bengal, he chose to send his son Rathindranath Tagore to America for higher studies instead of sending him to England as was customary with the rich parents of India in those days.  Rathindranath returned to India in 1909. Later in 1912, he along with his wife Pratima Devi and his father Rabindranath Tagore came back to America via England after handing over the English translations of his Geetanjali poems for publication and for history to happen. Rabindranath's initial reaction to America was not pleasant – "Though it is too early for me to pronounce any opinion on this country, I must say I do not like it. America, like an unripe fruit, has not got its proper flavor yet. It has sharp and acid taste." But later as he moved westward from New York to Illinois, he wrote, "The country around is flat and open, which has a great attraction for me, reminding of my our own scenery." Although he spent some of his most peaceful time in Urbana, Illinois, soon the news of his arrival spread and he had to spend many a hours lecturing at various venues. With his usual sense of humor, he wrote, "American people have an unhealthy appetite for sugar candy and for lectures on any subject and from anybody… I am afraid they have spotted me – I am being stalked."
During his next visit in 1916, Sir Rabindranath Tagore was well known to the American people as the first man of the orient to win the Nobel prize for literature. His poems, plays as well as his biographies were already in circulation. But during this trip, when the Great War (WW I) was raging in Europe, Tagore was extremely critical of the western nations as well as of America. But one of the primary reason of his criticism was because he felt that it was only in America where his appeal for humanity hold the best chance of being heard. He said, "This is a beautiful country. I believe it has a great future. America is unhampered and free to experiment  for the progress of humanity. Of course, she will make mistakes, but out of these series of mistakes she will come to some higher synthesis of truth and be able to hold up the banner of Civilization. She is the best exponent of Western ideals of humanity." He had high hopes for America. In New York he said, "America has the figure of youth and all that is best in Western civilization will eventually find lodgment here."  But his criticisms did not make him many friends in America, and the press lashed out at him on several occasions. He knew that he was being too harsh sometimes, and he said, "I am out of place here, I know, and I maybe judging you harshly. I felt I must come to bring the message of the East… This is my only happiness in America – the thought that this country can be the meeting place of the two (the East and the West)." Overall this trip was very successful for Tagore and he had high regards for President Woodrow Wilson. He wanted to dedicate his book "Nationalism" to President Wilson. However President Wilson's office declined the offer on the advice of Sir William Wiseman, Britain's special liaison agent in the United States, who reported that Tagore had "got tangled up in some way" with the Indian revolutionaries in America who were conspiring with Germany  to overthrow British rule in India.
Later in 1918, Rabindranath was falsely implicated in the famous Hindu German conspiracy trial.  When Tagore came to know about this he was very upset and immediately sent a telegram to President Wilson protesting the allegation. Later he wrote Wilson a letter in which he stated, "I have received great kindness from the hands of your countrymen, and I entertain great admiration for yourself who is not afraid of incurring the charge of anachronism for introducing idealism in the domain of politics, and therefore I owe it to myself and to you and your people to make this avowal of my faith and to assure your countrymen that their hospitality was not bestowed upon one who was ready to accept it while wallowing in the sub-soil sewerage of treason." President Wilson's office never replied to this letter.
Tagore's next trip to US during 1920-21 was a big disappointment for him.  The Tagore craze was gone, and the post war America was not the same as in 1916.  Besides, his renunciation of Knighthood in 1919 was not looked favorably in USA, a strong ally of the British.  Tagore was advised not to make the trip and was warned that his financial expectations may not be met this time, but he made the trip anyway.  He came with high hopes and expected that his message would be received with the same thirst as before – "I find in America a wonderful hunger and aspiration. The hunger is genuine and is, I believe, a reaction to the pursuit of wealth that has characterized your industrial life."  But at several occasions he was extremely critical of the Americans.  The failure to raise enough funds for his university was also a cause for frustration. Tagore was also suffering from health problems and depression during this period. Rev. C. F. Andrews writes, "Gradually, as his health improved, his stay in America became brighter and he wrote more cheerfully." Tagore wrote to him from Texas, "Since coming to Texas, I felt as it were a sudden coming of Spring into my life through a breach in the ice castle of Winter. It has come to me like a revelation that all these days my soul had been thirsting for the draught of sunshine poured from the beaker of infinite space. The sky has embraced me, and the warmth of its caress thrills me with joy."
Tagore's 1929 visit to America was very brief primarily due to an incident that took place in the US immigration office in Vancouver in Canada when he was trying to enter the country. Tagore was kept waiting at the immigration office for an unconscionable period of time and was handled in a rude and insulting manner during the interview. Among other things, it appears, the Nobel Laureate poet was asked if could read and write.  Outraged and resentful, he cancelled almost all his lecture engagements and left the country after a brief stay in Los Angeles for twenty days. However he later calmed down considerably and said, "I cannot believe that their laws and regulations represent the spirit of the people, a truly great people… I had been received with kindness in the Eastern States, overrun with kindness. People have listened to me with respect and received my message sincerely. That is why it hurt so much this time…"
Tagore last trip to USA was in 1930 on his way back from Russia. This time the reception was not that cold as his previous two trips. Although he suffered a minor heart attack and was in ill health for a prolonged period, he managed to make some important engagements including a meeting with President Hoover at the White House. Most of his lectures were very well attended, but it was the time of the great depression in America, hence his fund raising was not successful as expected. Rather, he donated the entire proceedings from the farewell event held at the Broadway Theatre on December 14, 1930 to the relief fund of the New York City's unemployed. The gesture was typical of the person who had tried all his life to call attention to the needs of the India's millions and who, in bidding farewell to America's millions thought first of helping those during their time of need.
Rabindranath Tagore has criticized the American's like one criticizes his own brother.  But he never lost his faith in America. He believed that it was America who can uphold the cause of humanity against the barbarism of western nationalism.  The ultimate hope and trust he had on America was expressed in his telegram to President Franklin D. Roosevelt in June 1940 when the fire or World War II was raging in Europe.
"Today we stand in awe before the fearfully destructive force that so suddenly has swept the world. Every moment I deplore the smallness of our means and the feebleness of our voice, for India is so utterly inadequate to stem the tide of evil that has menaced the permanence of civilization. All our individual political problems are merged today into one supreme world of politics which I believe is seeking help in the United States as the last refuge of spiritual man, and these few lines of mine merely convey my hope, even if unnecessary, that the United States will not fail in her mission to stand against the universal disaster that appears so imminent."
In 1941, a few months after Tagore's death at the age of eighty, the United States threw its weight into the war which destroyed the Axis powers.
References:
1. Tagore and America by J. L. Dees
2. Rabindranath Tagore in America by Stephen N. Hay
3. Passage to America by Sujit Mukherjee
4. Tagore and USA by Dr. Panchanan Saha
THIS ARTICLE WAS PREVIOUSLY PUBLISHED IN ANANDASAMBAD, NEW JERSEY