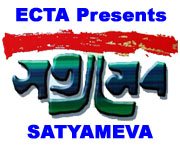 After a long hiatus and constant requests from theater lovers, ECTA will be staging three plays on June 28th and 29th, 2008, at the Edison Valley Playhouse (EVP) in Edison, New Jersey.
On 28th June, Saturday, there will be an encore staging of "Satyameva" , a play by Sudipta Bhawmik, directed by Indranil Mukherjee; starring Sudipta Bhawmik and Pinaki Dutta.
On 29th June, Sunday, two plays will be staged. Theater Practitioners of Cleveland, OH will present an audio and video staging of "Ashomoy" a new play by Sudipta Bhawmik starring Saubhik Sengupta and Moushumi Sengupta.
This will be followed by "Taconic Parkway", written and directed by Sudipta Bhawmik, starring Indranil Mukherjee, Keka Sirkar and Pinaki Dutta. This play will premiere at the California Natyamela on June 7th.
Synopsis of the plays and other details are given below. Seating is limited, hence please book your seats as early as possible.
Synopsis: Ashomoy
A play by Sudipta Bhawmik
A phone rings in the middle of the night in a middle class Bengali home in suburban America and throws the life of a married couple in complete jeopardy.

Produced by Theater Practitioners of Cleveland OH. Directed by Saubhik Sengupta
Duration: 30 mins
Synopsis: Taconic Parkway
A play by Sudipta Bhawmik
Manasij, a veteran Bengali screen actor is visiting USA with a theater group to stage some shows in multiple cities. During his first stop in New York, he is hosted by Dipak and Sharika at their multi-million dollar mansion in upstate New York. The enthusiastic host, Dipak, expresses his desire to make a film with Manasij as the hero and their daughter Pom as the heroine. But Sharika objects to this proposal vehemently. She would never let Pom take part in this dream project of Dipak. Manasij tries to mediate, but soon realizes that he is being pulled into a dark vortex of suspicion and animosity that was carefully camouflaged by the opulence and the veneer of apparent happiness of an affluent NRI family.
Produced by ECTA Inc.
Duration: 1 hour.
For details about Satyameva click this link.
Venue: Edison Valley Playhouse, 2196 Oak Tree Road, Edison, NJ
Saturday June 28, 2008, 3.30pm Satyameva
Sunday June 29, 2008, 3.00pm Ashomoy + Taconic Parkway
5.30pm Ashomoy + Taconic Parkway
Admission: $20.00 for each day; $35.00 for two days. ECTA Member discount 20%
Contact: indymukh@gmail.com, kaudata@yahoo.com