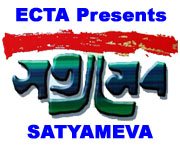 After a long hiatus and constant requests from theater lovers, ECTA will be staging three plays on June 28th and 29th, 2008, at the Edison Valley Playhouse (EVP) in Edison, New Jersey.
On 28th June, Saturday, there will be an encore staging of "Satyameva" , a play by Sudipta Bhawmik, directed by Indranil Mukherjee; starring Sudipta Bhawmik and Pinaki Dutta.
On 29th June, Sunday, two plays will be staged. Theater Practitioners of Cleveland, OH will present an audio and video staging of "Ashomoy" a new play by Sudipta Bhawmik starring Saubhik Sengupta and Moushumi Sengupta.
This will be followed by "Taconic Parkway", written and directed by Sudipta Bhawmik, starring Indranil Mukherjee, Keka Sirkar and Pinaki Dutta. This play will premiere at the California Natyamela on June 7th. Continue reading →