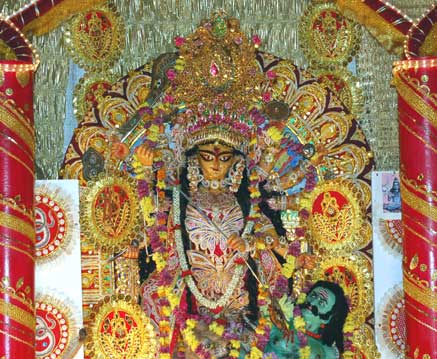 Bengali Associations of NJ are gearing up for the biggest festival of the year – Durga Puja. This year the festival starts quite early, around 25th-26th of September. Kallol, GSCA and Anandamandir will be celebrating their Durga Puja during that weekend.  And just like last year we should expect that the registration to start soon. GSCA has already opened their online registration, and Kallol is expected to open theirs in early September.
Last year (2008) was the first time when Kallol of NJ started their online pre-registration process and it caused quite a bit of furor amongst the Kallol regulars who failed to register early. The registration window was closed as soon as the guest count limit was reached and that left many people with a bad taste.  Some people were able to get in at the last moment (I don't know how) but several people had to go back. I think Kallol needs to do something about this.
I suggest that Kallol retain a limited number (approx 200 to 300) of reasonably priced daily tickets. These tickets should be released only on the day for which they are designated.  For example a Saturday tickets should be sold on Saturday only and not earlier. The price of these daily admission tickets when totalled should be higher than the combined 3-day registration fees,  and they can have different rates based on the key attractions of that evening.  This process has several advantages:
1. People who want to attend only on a specific day at Kallol can do so. They do not have to be tied to Kallol puja for all three days.
2. Many people (including non Bengali speaking) would like to come to the Puja to watch their children or other family members perform in a show on a particular day. It would be unfair to charge the full 3 day registration from them.  Even if they purchase the 3 day package and come only for one evening, Kallol will lose out a spot for the other three days.
3. The daily tickets (which from our past experience can be expected to be sold out) will fetch more revenue for Kallol than 3-day registrations. This is a win-win situation.
These are my humble suggestions to the committee for consideration. However, other organizations can also follow this process.
I hope the 2009 Puja festivals will bring in joy and happiness for all. I am looking forward to it, just like any other Bengali.