Three months ago, when I lost my mother, I received the following email from a close friend: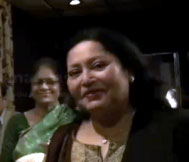 Tonight at the Sahitya O Alochana meeting I heard the very sad news of your mother's passing away.
I offer my heart-felt condolences to you. I have suffered some losses in my own life and I know first hand the sorrow of having to say good bye to a loved one. I also know that during this time and all through your life, you'll know that she is with you and watching over you, because you can feel her presence in your heart.
I feel deeply moved by this change from life to after-life that your mom has gone through and I felt compelled to tell you that she is still with you and will always be, just as I feel that my son is always with me, no matter where I am.
With my love and blessings to you and your family
The email was from Gayatri Gamarsh (who allowed me to call her as Gayatri-di) and it really helped me cope with my pain. Little did I know that three months later, Gayatri-di herself will move on to "her after-life" leaving us behind mourning her loss.
I came to know Gayatri-di mainly through her literary works and her love for anything artistic.  She used to love coming to our plays and appreciated them very much. Several times she has written about our plays in Anandasambad and other magazines. Her appreciation and encouragement meant a lot to me and my team mates.   It is for people like Gayatri-di that makes all the hard work in writing and staging a play worth it.
In September, she had participated in a workshop on creative Bengali writing conducted by Sunil Gangopadhyay. She had rescheduled her heart surgery just to attend this workshop online. That was the last time I had heard her voice on the phone.  Later, after her surgery, she had sent me an email asking for an article or cartoon for the "Sambad Bichitra" English section. But I never had the chance to hand it to her.
As mentioned by Gayatri-di in her email, I'll believe that she is always with us and will be watching any play we put up or read any article I write or any cartoon I draw.
Goodbye Gayatri-di and thank you for all your encouragement and blessings, for those will be my source of inspiration for whatever I do in the future.