Simanti Dasgupta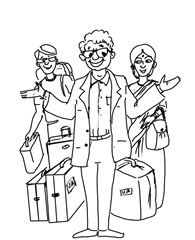 Many of us will intuitively link the title of the play to Rabindranath Tagore's well know poem, "Ek Gnaye" and correctly so. Sambhu Mitra and Tripti Mitra particularly immortalized the poem in their rendition of it in Bidhayak Bhattacharya's celebrated radio play, "Tahar Naamti Ranjana". "Ekti Gnaye Thaki", written and directed by Sudipta Bhawmik, is the story of a sister, Ranjana and her brother, Rajat, reuniting after fourteen years. Rajat immigrates to the US with his family after Ranjana sponsors their green cards. The reunion is marked by its usual excitement followed by nostalgia for their "gnya" they left both behind. Rajat becomes a critical link for Ranjana to relive her past, while Ranjana helps him come to terms with his decision to abandon his familiar world in Gobindapur. Ranjana is also ill and Rajat's presence offers a long-awaited emollient. As the brother and the sister often slip into the past, the rest of the characters are excited at the prospects of their future in the US, especially Rajat's son, Rajib.
Life gradually settles down and a quotidian harmony evolves. Yet from the beginning, the script occasionally and quite subliminally alludes to an underlying subplot that threatens the apparent calm between the two families. Eventually, through a set of related incidents, the undisclosed piece- a rather disconcerting one- is revealed. The disclosure, as one would expect tears the growing assurance of the families' suburban life. It also and more importantly, sets in motion a drift into the past that interrogates those relationships that were deemed normal. Though this interrogation fractures a happy picture, however, it is through this fracture, we are invited to revisit something more important: the attachment between human beings. The play above all, irrespective of its specificities of time and place, is a commentary on what it means to be a human being in relation to those we hold dear in our lives. Sudipta Bhawmik, an auteurist playwright and director, has long dealt with issues that inflect our condition of parabaas in several modes. Like his other plays, this play too explores life our lives in this country as a muddle of time that simply refuses to leave the past behind even when we have crossed thousands of miles.
Most of us, who live in the US, two continents and two oceans away from India, journey back and forth between the two counties. However, the journey is not necessarily always physical or has to be so. Rather, it is more often than not in our imagination as we brew the morning cup of tea or have machher jhol for dinner or pine for a phuchkawala while returning from work. Whether one has a temporary visa, a green card or even citizenship in the US, the journey never ceases. It is a drift: a going away to gather new things, but also treasuring what we had when we first began. In fact, the drift constitutes our parabaas. It is never complete. We inhabit this drift as a continual negotiation but we seldom reach a resolution, especially in the realm of values since we in effect reference two cultural systems.
However, there comes a time when, like all drifts, we too pause to assess what we gathered over time. "Ekti Gnaye Thaki" is one such pause, one, which we may not have all experienced but will nonetheless, recognize. It is a pause that makes us realize that apparent differences and distances that seem insurmountable are in fact not so and neither should they be. As the script reveals, the refusal to let differences alone inform our values makes our parabaas more humane. It is possibly in this refusal, that we reinvent ourselves as human beings who cannot be limited territorially through our passports and green cards. The title of this play is a wonderful reminder that in belonging to the heritage of Tagore, in the end we belong to "Ek Gnaye" somewhere, which like his philosophy folds in the universe even in its contradictions.
The play will be staged on June 12 and 13, 2010 at the Edison Valley Playhouse, 2196 Oak Tree Road, Edison, NJ. Visit http://ectainc.org for details.