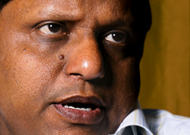 The Financial Express on its March 19 issue published an article which drew the attention of many high-tech entrepreneurs. It reported the laying of the foundation stone of a twenty story building that will house the India Design Center (IDC), a semiconductor chip design facility. West Bengal IT minister Debesh Das, who laid the foundation stone, said the facility will be set up according to a concept paper prepared by IIT Kharagpur and will offer semiconductor-related post graduate courses. It will also have space for semiconductor-driven companies and serve as an incubation centre for promoting entrepreneurs.
"The centre, to be set up on 1.7 acres, will conform to international standards covering the entire semiconductor spectrum, VLSI design, assembling, testing and packaging. An advanced IT park related to semiconductor design will also be built near the IIT Kharagpur, and the process of land acquisition is on," Das told reporters.
Is this a sign of a new era in West Bengal? Not too long ego, West Bengal was one of the most industrialized states in the country. However, during the last three decades the state fell from its pedestal with many industries closing their shutters and/or moving out to other "industry friendly" states. Constant labor unrest, anti-capitalistic attitude and apathy towards the investors have turned off the conglomerates as well as the foreign multi-nationals who in the meantime were setting up their shops in Maharashtra, Karnataka, Andhra and other states.
In the post Jyoti Basu era, things took a definite turn with Buddhadev Bhattacharya at the helm of the left front govt in West Bengal. He realized that, in the changing global scenario, West Bengal cannot move along the path of progress without capital investments and industrialization. His initiatives resulted in a change in the industrial climate of West Bengal. IBM, Wipro came to Kolkata to setup their huge offices in Kolkata. And recently, West Bengal grabbed the attention of the World when Ratan Tata unveiled the "Nano" – the one lakh rupees car manufactured in Singur, West Bengal. Mr. Bhattacharya had to face an uphill battle both from within his party as well as from the opposition. But this man seems to be determined to make 21st century as West Bengal's century. His policies and tactics in implementing his dream has not always been very pleasant, things went out of control in places like Nandigram, but he kept on moving ahead. It is not easy to change the philosophy and mind set of a party and a state that has grown complacent with the state of steady decline, a party that is agro-centric and gloats in their success of land reforms that happened almost quarter of a century ago. Hence, Mr. Bhattacharya knew that in order to change the state, in order to take it to the next century, he needs new comrades – comrades who understands technology, who understands what it takes to compete in the global marketplace of high technology. He inducted into his cabinet young ministers like Dr. Debesh Das (an electrical engineer with a Ph.D in semiconductor chip design methodology) to head the Information Technology (IT) ministry.
West Bengal has a lot to offer to any company interested in setting up a shop in the state. With some of the major technical institutions of India (IIT Kharagpur, Jadavpur University, Bengal Engineering College, Calcutta University and others) situated in the state, West Bengal has a huge pool of trained engineers readily available for any challenging assignment. The rapid modernization of infrastructural facilities (24 hr power supply, high speed freeways, IT and technology parks etc.) and low cost of doing business (compared to Bangalore, Hyderabad, Mumbai and other popular destinations of IT companies) West Bengal offers itself as the best place to set up any high-tech venture, be it a software development and service enterprise or for design and manufacture of high end semiconductor chips and systems. And I am sure, the big tech-businesses of the world are carefully watching West Bengal as their potential destination.
But one needs to be careful about the kind of industry being set up in West Bengal. Call centers and BPOs are not the kind of business that can propel the growth. We need manufacturing and IP (Intellectual Property) generating businesses that can compete with the world. And such businesses won't come from the big houses – it has to grow from small garage shops, from some passionate and driven entrepreneurs who has a dream to build something in West Bengal. The challenge is to attract them, retain them and provide them with infrastructural and logistical support. This is what the West Bengal Govt and its ministers like Dr. Debesh Das should focus on. It is good to have the big investors set up their big businesses in WB, but Dr. Das, please do not lose track of these young entrepreneurs. Let's not blindly follow the growth models of Bangalore and Hyderabad, rather let's try to emulate the Silicon Valley model. A growth from within is the most sustainable model and adds the most value. If this model succeeds, it will automatically attract talent, entrepreneurs and investors to the Hoogly Valley from the Silicon Valleys of the world.
Dr. Debesh Das, IT Minister, West Bengal is currently touring USA to meet several technology companies and investors. He will meet several entrepreneurs and investors in New Jersey on the 20th of May, 2008.