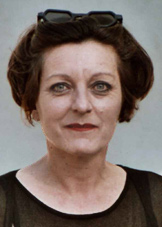 Herta Muller, "who, with the concentration of poetry and the frankness of prose, depicts the landscape of the dispossessed" won the 2009 Nobel Prize in literature. Ms. Müller, 56, emigrated to Germany in 1987 after years of persecution and censorship in Romania. She is the first German writer to win the Nobel award since Günter Grass in 1999.
Herta Müller was born on August 17, 1953 in the German-speaking town Nitzkydorf in Banat, Romania. Her parents were members of the German-speaking minority in Romania. Her father had served in the Waffen SS during World War II. Many German Romanians were deported to the Soviet Union in 1945, including Müller's mother who spent five years in a work camp in present-day Ukraine. Many years later, in Atemschaukel (2009), Müller was to depict the exile of the German Romanians in the Soviet Union. From 1973 to 1976, Müller studied German and Romanian literature at the university in Timi?oara (Temeswar). During this period, she was associated with Aktionsgruppe Banat, a circle of young German-speaking authors who, in opposition to Ceau?escu's dictatorship, sought freedom of speech. After completing her studies, she worked as a translator at a machine factory from 1977 to 1979. She was dismissed when she refused to be an informant for the secret police. After her dismissal, she was harassed by Securitate.
Müller made her debut with the collection of short stories Niederungen (1982), which was censored in Romania. Two years later, she published the uncensored version in Germany and, in the same year, Drückender Tango in Romania. In these two works, Müller depicts life in a small, German-speaking village and the corruption, intolerance and repression to be found there. The Romanian national press was very critical of these works while, outside of Romania, the German press received them very positively. Because Müller had publicly criticized the dictatorship in Romania, she was prohibited from publishing in her own country. In 1987, Müller emigrated together with her husband, author Richard Wagner.
The novels Der Fuchs war damals schon der Jäger (1992), Herztier (1994; The Land of Green Plums, 1996) and Heute wär ich mir lieber nicht begegnet (1997; The Appointment, 2001) give, with chiselled details, a portrait of daily life in a stagnated dictatorship. Müller has given guest lectures at universities, colleges and other venues in Paderborn, Warwick, Hamburg, Swansea, Gainsville (Florida), Kassel, Göttingen, Tübingen and Zürich among other places. She lives in Berlin. Since 1995 she has served as a member of Deutsche Akademie für Sprache und Dichtung, in Darmstadt.
Works in German
Niederungen. – Bukarest : Kriterion-Verlag, 1982 ; Berlin : Rotbuch-Verlag, 1984
Drückender Tango : Erzählungen. – Bukarest : Kriterion-Verlag, 1984 ; Reinbek bei Hamburg : Rowohlt, 1996
Der Mensch ist ein gro?er Fasan auf der Welt : Roman. – Berlin : Rotbuch-Verlag, 1986
Barfü?iger Februar : Prosa. – Berlin : Rotbuch-Verlag, 1987
Reisende auf einem Bein. – Berlin : Rotbuch-Verlag, 1989
Der Teufel sitzt im Spiegel. – Berlin : Rotbuch-Verlag, 1991
Der Fuchs war damals schon der Jäger : Roman. – Reinbek bei Hamburg : Rowohlt, 1992
Eine warme Kartoffel ist ein warmes Bett. – Hamburg : Europäische Verlagsanstalt, 1992
Der Wächter nimmt seinen Kamm : vom Weggehen und Ausscheren. – Reinbek bei Hamburg : Rowohlt, 1993
Herztier : Roman. – Reinbek bei Hamburg : Rowohlt, 1994
Hunger und Seide : Essays. – Reinbek bei Hamburg : Rowohlt, 1995
In der Falle. – Göttingen : Wallstein-Verlag, 1996
Heute wär ich mir lieber nicht begegnet. – Reinbek bei Hamburg : Rowohlt, 1997
Der fremde Blick oder Das Leben ist ein Furz in der Laterne. – Göttingen : Wallstein-Verlag, 1999
Im Haarknoten wohnt eine Dame. – Reinbek bei Hamburg : Rowohlt, 2000
Heimat ist das, was gesprochen wird. – Blieskastel : Gollenstein, 2001
Der König verneigt sich und tötet. – München : Hanser, 2003
Die blassen Herren mit den Mokkatassen. – München : Hanser, 2005
Atemschaukel : Roman. – München : Hanser, 2009
Works in English
The Passport / translated by Martin Chalmers. – London : Serpent's Tail, 1989. – Translation of Der Mensch ist ein großer Fasan auf der Welt
The Land of Green Plums / translated by Michael Hofmann. – New York : Metropolitan Books, 1996. – Translation of Herztier
Traveling on One Leg / translated from the German by Valentina Glajar and André Lefevere. – Evanston, Ill. : Northwestern University Press, 1998. – Translation of Reisende auf einem Bein
The Appointment / translated by Michael Hulse and Philip Boehm. – New York : Metropolitan Books, 2001. – Translation of Heute wär ich mir lieber nicht begegnet