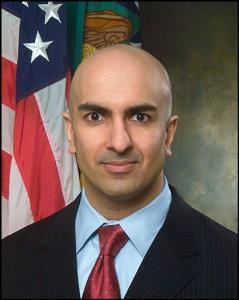 Neel Kashkari, a 35 year old son of immigrant parents Chaman and Sheila Kashkari from Jammu and Kashmir, has been appointed by the Treasury Secretary Henry Paulson to oversee and manage the $700 billion bailout of Wall Street. This brings Neel directly under the global spotlight as to how he manages this huge and controversial issue that affects millions of people not only in USA, but also all around the globe. The other day, when an NPR radio commentator mentioned that "a rocket scientist" has been invited to rescue the Wall Street, he was not joking. Neel did work as an R&D engineer at TRW in California where he helped in the development of space technology for NASA, like the James Webb Space Telescope scheduled to be launched in 2013 to replace the aging Hubble Telescope. Neel received his engineering training from the University of Illinois, Urbana Champaign, and later an MBA in finance from Wharton School of Univ. of Pennsylvania.
The media is now buzz with this new comer and his name has already been a source of many puns and wise cracks – "Cash Carry" to handle the cash debacle? Isn't he too young and inexperienced to handle such a grave economic situation?
But many are pinning their hopes on this bright young Indian American. His youth, his creative and out of the box thinking, as well as his engineering background to craft innovative solutions to tough problems, can prove to be an asset in resolving this crisis. We all look forward to Neel to get us out of this black hole.