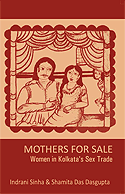 "My name is Shikha Morol. That's not my real name, but I don't want to tell you my real name. This is my name here. And please don't take any pictures. I won't allow it . . ."
The woman in front of me sat with her head bowed. She wore a blue synthetic sari with garish floral prints and a mismatched purple blouse. She looked neat and clean but signs of poverty were evident in her work-roughened hands and broken nails.
Her name, she said, was Shikha, "a little flame." She said she was 30. I was surprised. I assumed she was closer to 50.
This is how one of the interviews with Sikha, a sex worker in Sonagachhi Kolkata, starts in Shamita Dasgupta and Indrani Sinha's latest book, "Mothers for Sale: Women in Kolkata's Sex Trade". Continue reading →